Shopping Cart
Your Cart is Empty
There was an error with PayPal
Click here to try again
Thank you for your business!
You should be receiving an order confirmation from Paypal shortly.
Exit Shopping Cart
| | |
| --- | --- |
| Posted by Joy on January 17, 2012 at 11:30 PM | |
I have high hopes and big plans for 2012!  We have been very busy here on the farm.  In late Fall we finally got our barn up and now we are working on finishing it.  We've added a big chicken coop for my layer flock.  I finally got to  move some birds in there last week and so far they seem very happy with the set up.  I can lock them up safe and sound at night and let them out during the day.  Right now they are turned out into a temporary yard because I'm wanting them to learn to stay in their new home.  I hope to be able to give them the whole pasture to free range very soon.  The barn isn't too far from the house and I know they'd really like to come back and sit on my front porch (which is what most of them were doing everyday). The barn is still under construction as we are planning on adding a brooder room to the other side opposite the coop.  Then we will make a walk in stall behind the brooder room for our Haflinger Mike.   Here's a few pics of the new coop.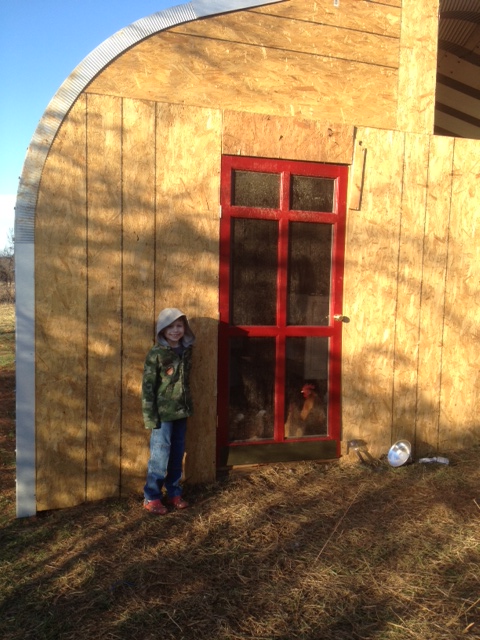 The front door to the coop.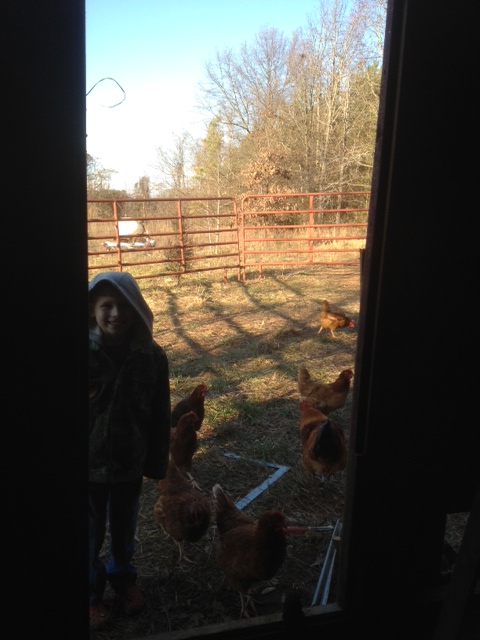 The back door and temporary yard.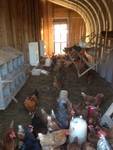 Inside the coop with 107 of my layers.  I have about 50 more to move in there.  This is going to be so much easier to maintain (I hope) than the multiple smaller coops.  We have the roosts hanging from the ceiling so they aren't touching the floor.  This should make it easier to shovel the coop out.  So that is my accomplishment for the month so far.  Not too bad considering we've had short days, cold weather and plenty of rain. 
Did you catch that I mentioned a horse back there? 
  We've had this barn for several years and my husband never "got around" to putting it up.  So what's a wife to do but motivate the husband by accumulating a few hundred chickens and then buying a horse!  My son takes riding lessons and really wanted his own horse to work with.  We're excited to have found a Haflinger gelding named Mike who has been trained to pull a plow and drive wagons. He has also been in parades so he's a well rounded horse.  Well, he really is "well rounded" in that he's a bit overweight but we're working on that.   Our friend Penny, the horse whisperer, has him at her ranch right now working on his ground training while we get the barn ready.  Oh yes, we also need to put up a pasture fence.  Here's a couple of pics of Mike and my son Jonah (future horse trainer).  Look at that smile, how could I have said "no" to the horse?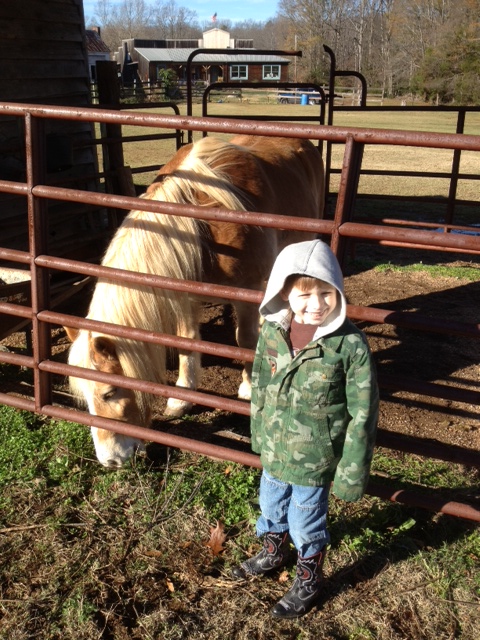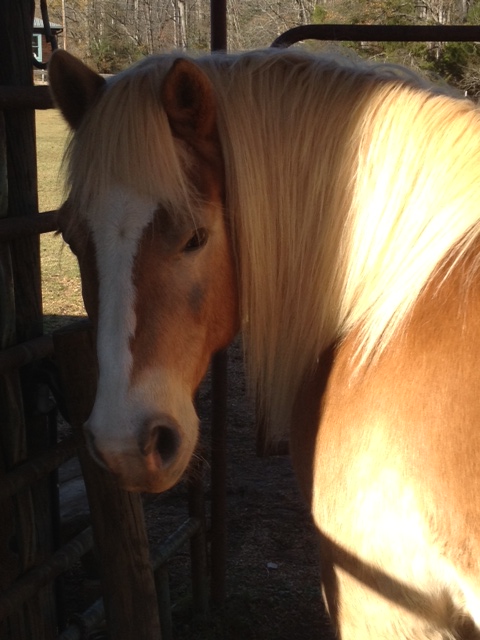 We've also had plenty of predator issues the last 2 weeks.  I've witnessed several hawks dive down at my ducks in the yard, so far no losses as the guineas sound the alarm just in time.  But I did come home one night to find a coyote in my headlights in my front yard stalking  the ducks.  I scared him away with the car.....when I drove it right through the yard straight at him.  If only I had my concealed weapons permit, I might could've got that one. 
We're currently having thunderstorms.  And the old saying goes "If in January you hear thunder, within 10 days you'll be snowed under".  Time to stock up on chicken food.  We had thunderstorms last January and they were followed by a big snowstorm that caught me off guard.  I'm going to be more prepared this time.  I hope you're all having a wonderful start to the new year.  Stay warm and dry, and may you have your shotgun close if a coyote ventures into your yard.  Until next time, happy chicken keeping!
Categories: None
/